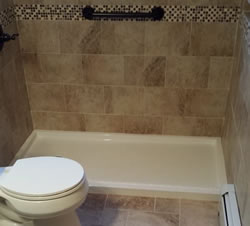 Converting Your Bathroom To An Accessible Bathroom?
We specialize in building accessible bathrooms in Florida homes.
Accessible bathrooms are quickly becoming a very popular bathroom remodeling project in Florida NY.  For people who have mobility problems such as senior citizens or individuals who may have physical limitations an accessible bathroom is essential to living a normal life.  In these situations accessible bathrooms help an individual retain their privacy and independence while still keeping them much safer from dangerous slips or falls.
Star Remodeling is a specialist bathroom remodeling contractor based out of Orange County NY. We specialize in helping transform standard, run of the mill bathrooms into new accessible spaces for the homeowners or loved ones who need to use them the most.  From the installation of walk-in tubs to converting an old tub into a shower, grab bar installations, shower controls and more.
Accessible Bathroom Remodeling Services in Florida
Walk in Tub Installations
Barrier Free Showers
Bathroom Grab Bars
Why Choose Star Remodeling For Your Accessible Bathroom?
Quality and affordability are two very important points to consider when choosing who to remodel your bathroom and with Star Remodeling you're getting the best of both worlds.  Instead of cookie cutter solutions we'll work with you to design and build a beautiful and functional accessible bathroom.
If you or a loved one is in need of a more accessible bathroom in their home within our Orange County service area then give us a call today to book your estimate and bathroom consultation.