Greenwood Lake NY Bathroom Remodeling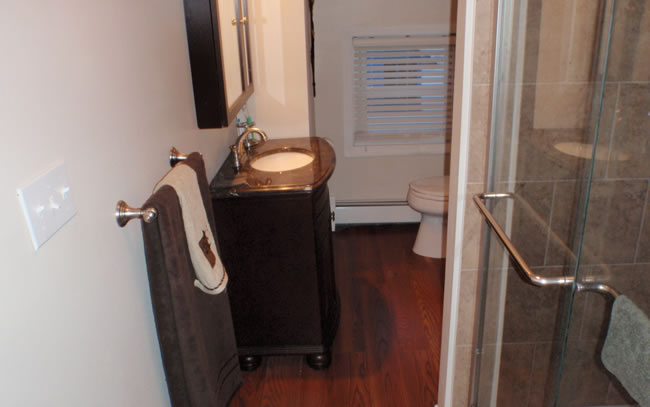 Looking To Make A Meaningful Transformation In Your Greenwood Lake Home?
Bathroom Remodeling Is A Great Way To Get More Enjoyment And  Value Out Of Your Home!
Bathroom Remodeling is one of the best investments you can make into your Greenwood Lake, NY home, consistently offering the best return out of many other remodeling projects.
It's not a surprise that many home improvement experts would also agree that bathroom remodeling offers the homeowner the most bang for their buck.
Maybe you want to give an old boring bathroom a facelift, or maybe you'd like to incorporate some of the latest bathroom technology such as a new shower panel, a steam shower or perhaps an accessibility upgrade.
Star Remodeling is a full service bathroom remodeling contractor serving Greenwood Lake.  We specialize in renovating and remodeling bathrooms in homes and townhouses through the Greenwood Lake area.
With so many material and finishing choices for your bathroom it helps to have a little professional advice and guidance so you (the homeowner) can make educated decisions based on current bathroom remodeling trends and what will compliment your house the best and fit within your budget.
Bathroom Remodeling Services in Greenwood Lake NY
New Bathroom Construction
Bathroom Design Ideas
Custom Shower Surrounds
Custom Tub Surrounds
Tiled Showers
Tiled Floors
Bathroom Vanities
Bathroom Countertops
Handicap Safe Bathrooms
Accessible Bathroom Remodeling
Elderly Safe Bathrooms
Custom Showers and Tub To Shower Conversions
We've all seen those dream bathrooms in a magazine or experienced a beautiful bathroom in a luxury hotel but most people never think of building something like that in their home because they think it's not affordable.  Thanks to many modern building materials it's more affordable then ever before to have a beautiful bathroom and building a custom shower or converting your old tub to a shower are two very popular options.
Accessibility and Bathrooms For The Elderly
The trend of aging-in-place home remodeling is not slowing down and more and more people with mobility issues are remodeling their homes to better suit their lifestyle.  The bathroom is a popular place for these upgrades because the bathroom is one of the most dangerous rooms in a home for the elderly or physically challenged.  Whether you need to remodel your bathroom for yourself or for the needs of a loved one Star Remodeling can help you build a beautiful, functional and safe bathroom.
New Bathroom Flooring
There are many possibilities for your bathroom flooring including vinyl for a more affordable option up to tile, stone and slate for more luxurious tastes.  One of the biggest trends in bathroom flooring right now is heated tile or slate flooring.  The heat you feel underfoot is a welcome luxury on those cold Greenwood Lake winter mornings.  Heated tile flooring or "in floor heating" as it's often referred to is very efficient too.
New Bathroom Vanities
Maybe you need more storage space and organization in the bathroom or maybe you'd like to have his and hers sinks or different lighting arrangements.  We can custom build your bathroom vanity anyway that you'd like it.  Fit, form and function is what we're about and we'll help you design a beautiful new vanity.
Bathroom Plumbing
When you start remodeling your bathroom inevitably you might need to touch plumbing.  While we're there it's an excellent time to upgrade any plumbing fixtures or pipes and joints that need attention.  We'll carefully go over your bathroom plumbing to ensure your system is adequate for the bathroom you wish to have.
Star Remodeling's experienced remodeling staff will assist you in designing, planning and building a functional and beautiful bathroom space that could rival any 5 star hotel.  Whether you want to create a spa like setting in your master bath with beautifully laid tile floors or maybe it's adding a skylight,  a new vanity, double sinks or that giant soaker tub you've always wanted.  We will help you choose the perfect fixtures and colors, vanities and countertops.  Star Remodeling can totally makeover your bathroom.
Star Remodeling has plenty of experience remodeling bathrooms and we'd love to have the opportunity to transform your bathroom into the one you've seen a magazine, or at a friends house, or maybe you have your own plans…