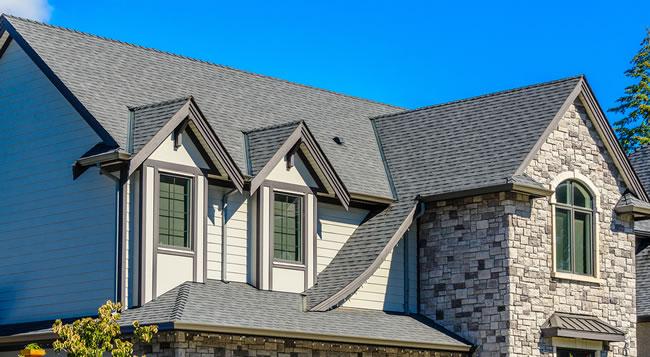 Do you need to have your roof replaced on your Orange County, NY home? Maybe your roof is 20+ years old and is starting to fail, maybe your home has been damaged by a recent storm or maybe you're building a brand new home and you're looking for the right roofing material or a new designer roof.
Roof replacement and installation is a big job, and a very important one as it's the first line of defence against our East Coast weather.
If your home was built in the 1970′s through the 1990′s and you've never had the roof replaced, or don't know if previous owners had the roof replaced then now is the time to have the experts at Star Remodeling come and inspect your roofing system.
Star Remodeling is a local roofing contractor based out of  Orange County, NY.  From insurance claims that may involve extensive damage to simply tearing off and replacing the old roof on your home with a new asphalt shingle roof when it's time.  Our experienced roofing crews specialize in working on complex roofing projects on small or large homes with steep sloping roof lines right down to putting a new roof on your small home addition.
Roofing Installation and Replacement Orange County, NY
Asphalt Shingle Roofing
Architectural Shingles
Stone Coated Shingles
New Construction Roofing
Standing Seam Metal Roofing
Roofing Inspections and Repairs
Your new roofing installation will also include the tear off, clean-up and disposal of your old roofing material. When we install your new roof we're going above and beyond and we offer a few extra benefits that help set our services apart.
These include:
A thorough inspection of your roof sheathing
Proper flashing and installation when required
Addition of proper venting where required
Ice dam prevention if we notice anything troublesome
How Much Will A New Roof Cost in Orange County, NY?
That's a really hard question to answer through a web page because every roof is different. We can tell a rough ball park would be $4500-$13,000+ or more depending on the size of your roof, how steep it is, and the roofing materials you've chosen. Do you want an asphalt shingle or a designer style stone shingle? These choices will make a very big impact on the cost of your roof replacement.
Roofers generally base their estimates off the overall square footage of your roof , the pitch, and how many layers of roofing material there is going to be. The material cost will cost what it costs at the local building supply store and we get generous contractor discounts that a consumer wouldn't be likely to beat.
How Long Will It Take To Replace My Roof?
We can finish the entire roof of an average size home in about a full work day. That's if the weather cooperates and we don't uncover any issues that need to be repaired during the tear-off of the old roofing material. For larger homes, with steeper or more complex roof lines often we budget 2-5 days for the project, weather permitting. Our bookings fill up quite quickly so the sooner you schedule the better.
Why Choose Star Remodeling To Replace Your Roof?
Star Remodeling specializes in residential roofing throughout the Orange County, NY area.  We are licensed and insured to work in our community and on your home. Our experienced roofing crews are not just labor, they are craftsman who truly excel at what we do.
We'll spend the time required to install your roof right and even repair any issues that need correcting such as the addition of proper roof venting, an issue we see frequently. If you'd like to receive an estimate to replace your roof then give us a call today or fill out our online form.