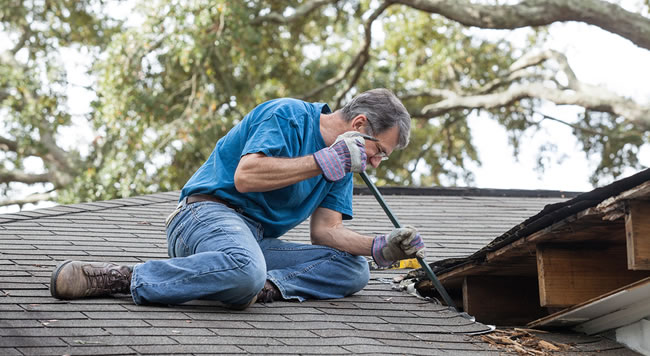 Is your roof leaking?  That's one very obvious sign that your roof needs to be repaired, but it's not the only one.  Often acts of nature can cause damage to a roof such as a wind storm lifting up some shingles, or an ice dam forming over the course of the winter or maybe your roof is just really old and the materials are finally starting to fail.
Star Remodeling is a local roofing company based out of Orange County, NY.  We specialize in all aspects of residential and commercial roofing including roofing repairs.  Where we really excel is in helping homeowners diagnose and solve those difficult roofing issues that other roofing contractors either cannot solve or just make worse.
Whatever the cause of your roof damage Star Remodeling can repair your roof for you.
Roof Repair Services Orange County, NY.
Asphalt Shingle Roofing Repairs
Roof Flashing Repairs
Fixing Poor Roof Ventilation
Roof Decking Repair and Replacement
Finding and Fixing Roof Leaks
If you have a damaged roof it's best to take care of it quickly before it becomes a much bigger problem.  Some of the roofs we've worked on started out as a little problem (that could have been repaired easily) but because they were ignored (or unknown) they grow into much more serious issues with the home after only a few short years.
What Are Some Common Roofing Problems We Repair?
Ice dams are a constant problem in our area of the country and every spring when the ice starts melting they account for a great deal of our roofing repair calls.  We also get called out often to replace missing or damaged shingles, replace or repair chimney and other flashing, replace roof decking or sheathing, repair gutters and more.  If your house or building has a roof then we can repair it or replace it, that's the bottom line.
How Long Will My Roof Repairs Take?
That really depends on the extent of the damage to your roof.  If all we need to do is replace  a few shingles or repair some chimney flashing then it's likely only going to take a few hours.  If you've had a roofing problem that has been left unchecked for a few years that has resulted in some structural damage then you might be looking at a few days for your repairs to be completed.
When you choose Star Remodeling the repairs to your roof will be completed on time and to meet or exceed current Illinois building codes.
Will Insurance Cover My Roofing Repairs?
That's a good question and a tough one to answer because every situation is different.  If the damage is very recent and occurred from an act of nature such as a severe wind, hail or rain storm then it's usually something your insurance will cover.  Remember you'll still have a deductible which will need to be covered.   If the damage to your roof is something that has been a problem for a few years, or due to owner neglect then it's very likely that it won't be covered.
We have experience working with insurance companies and can make the process as painless as possible for you. We understand the paperwork process and how to speak to your adjuster about your roofing repair requirements.
Why Choose Star Remodeling To Repair My Orange County NY Roof?
When you choose Star Remodeling to repair your damaged roof you're not just hiring another "roofer".  You're partnering with a team of professional craftsman who know their trade inside and out.  We take part in industry training and stay educated on the latest roofing materials and repair methods.