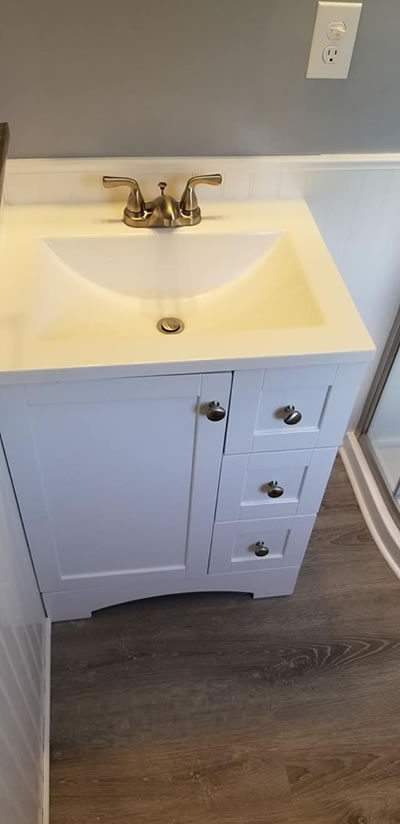 A small space doesn't have to limit your creativity when it comes to bathroom remodeling in your home. Although you're sometimes limited by the four walls, and don't want to add to your budget to tear down walls/halls and open up spaces, you can still make a small bathroom space look bigger with the right bathroom renovation ideas. A larger look and feel are both possible with the right lighting, cabinets, countertops, bath/shower area, and more when the time comes for small bathroom remodeling.
So… where do you begin? Let's take a look at some simple bathroom remodeling ideas to open up a small space when you're working with a tight budget to remodel your bathroom.
1. Declutter
Think of Spring cleaning, but for your bathroom. Get rid of the clutter in the bathroom to help open up a crowded or otherwise tight space. Some ways you can do this include:
Getting rid of accessories that aren't put to use.
Reorganizing the bathroom vanity to open up the area.
Utilizing cabinet space, and overhead spaces that you currently aren't utilizing.
This approach to small bathroom remodeling not only helps open up tight quarters, but also gives your bathroom that clean, streamlined look you want to see. It brings everything together, and your home looks a lot neater in general when there's little to no clutter in sight.
2. Storage Game
You've got to utilize all the space you have available to you to open up tight quarters. For example, you can utilize hanging door storage bins to avoid taking up small cabinet space below the vanity. Or, you can add storage racks above the toilet to store toiletries, towels, and other small accessories. Why not install your own hanging cabinet and utilize it as a medicine cabinet?
You need to keep some items in every bathroom, even after you de-clutter the space. When deciding where to put things, you want them to be organized, in a place that's easy to reach, and giving off the appearance that the space is neat and well-kept. When you're ready for a bathroom renovation, consider storage cabinets, hanging storage, additional hooks, and other over door or shower caddies, to ensure you can easily store everything you keep in the bathroom, without overcrowding your already tight space.
3. Countertop and Vanity Materials
Did you know materials like quartz or granite not only look elegant and luxurious, but also help change the vantage point of what visitors are going to see when they walk into your bathroom? Lighter whites, beiges, and other "lighter" countertops and vanity materials, are a great option to consider when you're considering small bathroom remodeling tasks to tackle.
You can easily produce an elegant appearance, and the luxurious feel for your bathroom, without having to overdo it with your budget. Furthermore, you can choose these materials that are easy to care for, durable, and will withstand everyday use in the bathroom, all while opening up the space to make it look and feel bigger than it really is.
4. Lighten Things Up a Bit
Lighting is an excellent way to open up tight quarters; this also works well in a tight bathroom when you're budgeting for your bathroom renovation. Some forms of lighting to consider are:
Installing new windows or a skylight

Installing new light fixtures

Adding ultra-bright LED lighting
Lighting really recreates any space of the home, and the bathroom is no different. Furthermore, when the space is bright and airy, it is going to appear much larger than it really is. Therefore, homeowners who are working with tight quarters when they're remodeling the bathroom, should consider utilizing more light fixtures, such as recessed lighting or pot lights, brighter lighting, and possibly installing a new window in the space.
These are somewhat affordable small bathroom remodeling ideas which will really recreate the space, and help bring together the appearance when everything is said and done.
5. Repaint and Refinish
A fresh coat of paint works wonders on any room in the home. The bathroom will look years younger and more modern with a new coat of paint. When choosing colors, you obviously want to bring the entire space together. However, try to go with sleek, modern, and simple colorscapes, that blend in well together with nearly any decor. This is even more so the case if you plan on possibly selling your home in the near future. You want to market your property to "any" buyer, rather than personalize it too much (with something like bright pinks, purples, or other colors), so your home can appeal to the masses.
When repainting, choose satin paints. They are brighter as well, which will help open up the space even more. You might also consider doing two-tones in the bathroom (for example a different color along the borders, floorboards and overhead, and contrast with a different color on the walls).  Star Remodeling can help you with color ideas otherwise, look to photos of large bathrooms and open spaces on websites like Pinterest or Houzz.  This will give you a better idea as to which colors work well together, what doesn't work so well, and how you can open up a tight area when you're redesigning your home's bathroom.
6. Multiply
Mirrors, that is. Mirrors in general can play a huge role as to how big a room appears. The additional light reflecting off of the mirrors in the bathroom, gives off the essence that it is a much larger space than it really is. Just as the saying goes, beauty is in the eye of the beholder, the same goes with your bathroom where you're dealing with a tight space and trying to utilize bathroom remodeling ideas to help open up that space.
One large mirror over the vanity can create the illusion of a larger space. If you add a mirror on the medicine cabinet door or one above the towel racks, this can also help open up an otherwise tight space in a bathroom that you're remodeling in your home.
7. Make it Slide
If you have bathroom doors that are hinged, you might want to consider sliding doors when you're undergoing the bathroom renovation in your home. In extremely tight spaces such as a small hallway bathroom, just opening up the bathroom door takes plenty of space with hinged doors; with sliding doors, this is not the case. The doors are going to slide into the walls, meaning you're going to have that additional six to twelve inches of space. Although it doesn't seem like much, when you're working in extremely tight quarters, it really does make a difference.
8. Blending
Blending the tiles and walls with the same material finishes is another illusionary trick that might work, and make the eyes (and brain) believe the bathroom is larger than it really is. Blending tiles on walls and floors gives off the impression that the bathroom is twice the size it really is. Plus, it gives off that clean look you're going for, with the de-cluttering and cleaning up theme we discussed earlier in the post.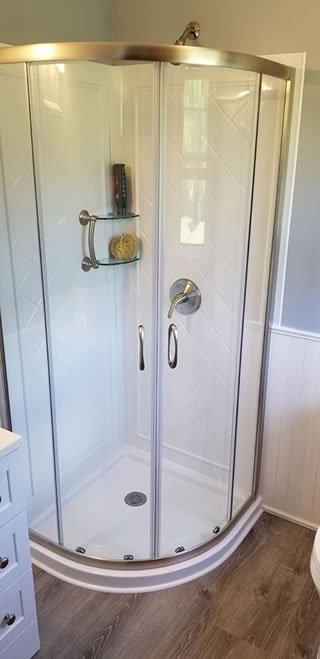 9. Go Glass
If you have an open shower space, consider installing an all glass shower door enclosure. A glass shower door opens up the space dramatically, it looks elegant, and it looks modern. This bathroom renovation tip is not only going to open up a tight bathroom space, it is going to streamline an otherwise outdated bathroom, into the 21st century as well (or into the future, if this is what you're going for).
An all glass door, with stainless steel handles, will really give off that air of elegance, luxury, and a spa-like feel in the bathroom. It might not be the cheapest option, but it is one that is really going to provide additional real estate when you're completing small bathroom remodeling services in your home.
10. Time for Recess
Recessed cabinetry and storage space are another great use of space when completing bathroom remodeling services in a tight space. If there are empty walls of space, why not install a recessed medicine cabinet in that area? It provides additional storage for those must have items in your bathroom, plus it doesn't take up the invaluable real estate you're working with, when you're remodeling the tight bathroom space in your home. It's a pretty cool use of space as well, if you can't see the storage cabinets, but they open up with the push of a button, or sliding mechanism.
There are many restrictions you might be dealing with if you are considering remodeling a small bathroom. Whether you are tight on budget, time, or just don't want to tear down walls and go through major renovation work, there are several simple bathroom remodeling tips you can utilize, to open up that space. So, when the time comes to begin the small bathroom remodeling, these are some simple options to consider which will open up tight quarters, modernize the space, and really give off that air of elegance and luxury, by recreating the bathrooms of your home with these bathroom renovation ideas.
Are you looking for a contractor to remodel your small bathroom?
Star Remodeling is a full service home remodeling contractor based out of Orange County, NY and serving the surrounding area.  We specialize in remodeling bathrooms of all sizes including small bathrooms to help them look bigger.
If you'd like to schedule an estimate for your bathroom remodel please give us a call (845)-421-0277 or fill out our contact form.