Choosing The Right Kitchen Cabinets For Your Home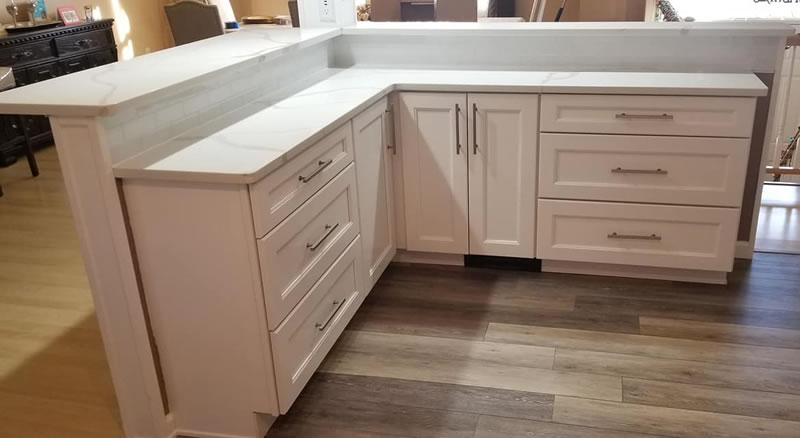 Choosing The Right Kitchen Cabinets For Your Home
You love the look of wood-grain kitchen cabinets with a see through glass front. This elegant style doesn't fit your home's decor however. So, is it as simple as finding new kitchen cabinets that look good and match the decor or is there something more to your decision making process when choosing kitchen cabinets? Whether you're doing a complete kitchen remodeling job, are considering upgrading the cabinets and knobs, or are adding new appliances that you want to match with your cabinets, there are several factors that you'll weigh when you're going through the kitchen renovation in your home, and trying to find the right cabinets for the kitchen.
What Goes into Your Decision?
Numerous factors have to be accounted for when you are deciding on new kitchen cabinets for your home. Some of the most relevant factors you'll weigh when choosing kitchen cabinets are:
Your budget and how much you're allocating for new cabinets for the overall kitchen remodeling project.

The material finishes.

The existing colors and decor in your kitchen.
Upgrades you're making, including new knobs, fixtures, and appliances.
Furthermore, you're going to want to make sure your new kitchen cabinets are going to match well with the new flooring, the backsplash, and all other areas of your kitchen, when you're doing major kitchen renovation work in your home.
The Cabinet Type
You have a basic idea of the landscape and how you want things to appear. But, many homeowners don't realize that there's more than one type of kitchen cabinets they can order when choosing kitchen cabinets for their home. These are some of the most popular options.
1. Ready to assemble, or RTA. Think of Ikea with these cabinets. These are products you buy and you put them together yourself. They're usually much cheaper, but you're doing the manual labor, and you're doing the installation.  So, if you make a mistake, it's going to end up costing more and taking up far more time than you might have bargained for in the first place.  The materials are usually not as high quality.
2. Stock cabinets. This style comes prefabricated. Therefore, you don't have much leverage with size, grain, design, finish, texture, or other design details. A great feature with these kitchen cabinets is that they're affordable and standard. This means they will fit in with most cabinet spaces, so you won't have to do much cutting or destruction in the kitchen in order to properly fit them, if you're trying to keep your budget down for the kitchen remodeling project.
3. Semi-custom cabinets. As the name implies, you can customize some of the features and design work with these kitchen cabinets. Custom doors, shelves, height, width, and other design details are easy for you to customize with the manufacturer. Make sure you get the dimensions right, though. Although these are not the most expensive kitchen cabinets, they are pricier than other versions.  And, if you get something wrong, it's going to end up costing more to refinish or install a different kitchen cabinet in the space.
4. Custom cabinets. You are in control here. You can add glass panes or windows, create custom shelving, have half shelves, include design work and detail you want to see. Furthermore, you can choose the most expensive wood grains and textures. No matter what you want done, or how you want your new kitchen cabinets to appear, you are in full control when choosing kitchen cabinets that you can customize entirely with the manufacturer.
You guessed correctly if you think this is the most expensive of the cabinet options. Since you get to maintain full control of how things look, manufacturers maintain control of what they're going to charge. So, you're at their mercy, and you have to shop around when you choose custom kitchen cabinets. Not only so you get a great deal, but also to ensure you are getting what you're paying for, and the genuine materials that you are paying for as well.
Framed or Frameless
You also have to consider the frame and construction style when you're doing kitchen remodeling and installing new kitchen cabinets. When you choose framed cabinets, rails and stiles will form a border around the physical cabinet. With frameless cabinets, there's a more contemporary look, and the kitchen cabinets don't appear as "boxy" in design.
In some instances, you aren't going to have much of a choice, especially if you are buying prefabricated kitchen cabinets. However, if you have a larger budget for your kitchen renovations, and are willing to upgrade the design and finish detail, you can also decide if you prefer frame or frameless cabinets for your kitchen space.
Kitchen Cabinets Styles
Every homeowner has something a little different in mind when they are choosing kitchen cabinets. For some, it is the simplicity they desire that is functional. The next homeowner is going to want something contemporary and the latest design detail for their new kitchen cabinets. Another homeowner is going to want to have open shelving, so they can easily grab items from the cabinets.
No matter what your style or what kind of detail work you like best, there are several kitchen cabinets styles from which you can choose, when the time comes to buy and install new cabinets. Some of the design features you can discuss with manufacturers as well as kitchen renovation companies include:
Cathedral framing style

Glass or see through window

Beaded design work

Flat panels

Open shelving

Half and full shelving options

Shakers (look like mission cabinets with a narrower finish)
These are a few of the countless options and design details you can choose from when you're choosing kitchen cabinets. It's best to discuss these details with the kitchen remodeling contractor you are planning on hiring to install your new cabinets. Not only will they inform you if your kitchen is equipped for those styles and detail work, they are also going to inform you of what will fit in best, and what is most economical for your home, in the event you are on a tight budget when you're doing kitchen renovations throughout your home.
Door or Drawer?
Do you really have the option? Yes! When you're considering new kitchen cabinets, you're in full control of the type of paneling and shelving, and how you want the cabinets to open. Furthermore, there are open concept shelves and cabinets you can choose from today as well, if you want your kitchen to have more of a contemporary look and an open feel to the space.
Not all homes are properly equipped for all types of kitchen cabinets. In some instances, you'll have to tear down walls or install inserts, in order to ensure these cabinets can be fitted in your home. Therefore, you'll have to budget accordingly, plan the time it will take to do the design work, and discuss your options with the kitchen remodeling contractor, in order to ensure you are aware of what is going to be done, how long it is going to take, and what you can expect once the new cabinets are fully installed in the home.
Color, design, and texture
A final aspect you might want to consider is the overall appearance. There are numerous wood grains and finishes you can choose from. You might consider a stained cabinet to give your kitchen a more rustic feel. If you have all stainless steel appliances, you might prefer a more modern variety when you're deciding on the new kitchen cabinets for the space. You are in control of the overall look and feel, but you're going to have to consider the overall space, the kitchen, and other design decor, in order to ensure you choose the kitchen cabinets that are best going to compliment the overall area.
Hire a Contractor for the Job?
The answer is always, yes! If you're doing kitchen renovations and kitchen remodeling, no matter how small the job may seem, don't try to do the work on your own. You can end up doing far more damage than good, and you can make an otherwise easy job, something far more complicated than it has to be. It's best to spend a little more up front, and to allow a professional to do the work (properly) the first time around, when you're doing any form of kitchen renovations in the home.
You have so many options to choose from when buying new kitchen cabinets for your home. It's important to consider as many as possible, and know what to look for, in order to ensure you are going to find the best fit when you're choosing kitchen cabinets to have installed in the space.
These are a few of the many different aspects you'll consider when buying new cabinets. You'll find it easier to find the perfect fit, design, decor, and overall style, when you consider as many relevant factors in your decision making process as possible, when the time comes to hire a contractor to install and fit your new kitchen cabinets for your home.
Star Remodeling Installs New Kitchen Cabinets Throughout Orange County NY
If you're looking for help installing new cabinets in your kitchen give Star Remodeling a call today.  Our cabinetry experts can help you make the right selections and provide cabinet solutions that will work within  your budget.